Short post this week because we're
uber
busy, profoundly exhausted, and convinced that we may very possibly die before finishing this post, and we'd like to get to our next shot of peppermint schnapps before we expire. So, then, the following are what we consider some of the more interesting and, in some cases, unsettling images from our personal storage vault of rock and roll remainders.
These milk bottles have nothing to do with rock and roll. We just
really like old milk bottles and want to see more of them in as many irrelevant
posts as possible.

We feel the same way about old fashioned ice cream parlor things.




And yet we would rather die than let a drop of milk touch our lips!
Look at Stephen Still's shirt. Now, be honest. Could you love the one you're with...if it was him? In that shirt? Wonder if his taste was always this bad, or if getting older has somehow claimed his better judgment,
Two Girls and a Cup: Debbie Harry and a young Joan Jett
discuss Joan's bad taste in beer.
Tina Turner and Janis Joplin belt it out before
heading to Nutbush in their Mercedes Benz
Debbie and Joan give The New York Dolls tips on nail
polish and other feminine nuances that, ultimately, will
not keep the Dolls from breaking up a year or two later,'
just as the music trend they started becomes huge and
their imitators reap big bucks while they are reduced
to footnote in history status.

Chrissy Hynde, singer and guitarist for the Pretenders, a self-righteous vegetarian, and the sexiest woman and man in rock and roll..
Chrissy Hynde as Steven Tyler with less thick lips
Currently playing: Chrissy and Debbie as old chicks
with still youthful licks.
Jimi Hendrix explaining to The Monkees all of the reasons
that he feels ridiculous performing as their opening act.
Jimi Hendrix explaining to The Who all of the reasons
that they should find a new hairdresser.
John Taylor, bassist for Duran Duran and our absolute
number one hearthrob from the annals of rock and roll.
Even now, with less hair and a grimace.
Lita Ford, heavy metal rock goddess showing us some
things we can do with a guitar while not playing it.
Such as this....
Ach! Mein Gott...get a room, Lita.
You, too, Tricia...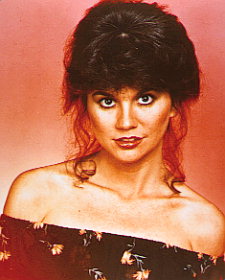 Lovely Linda Ronstadt in her salad days
And now...in her cheesecake days. Oh, Linda. We loved you.
And last but not least, classic Stevie Nicks....
.......as we like to see her......
....and now.


Remember.......we love you, even if your mother doesn't.