The inimitable Roscoe 'Fatty" Arbuckle
You've probably heard of the big names of silent film. Mary Pickford, Charlie Chaplin, Rudolph Valentino,
et al.
But the world of silent film was populated by many other leading men and ladies, comedians and comediennes who, in their time, were every bit as famous and popular as their more iconic counterparts. And none more so than
Roscoe "Fatty" Arbuckle
, the avuncular star of such silent screen shorts as "The Iron Mule", "The Fighting Dude", and feature films like "Brewster's Millions" (remade in the 80s with Richard Pryor in the starring role) and "Out West", the film in which Arbunkle advised a character played by a young and unknown
Bob Hope
to "go west."
Like many other luminaries on the Tinsel Town galaxy., the Kansas-born Arbuckle hailed from humble beginnings, but in Arbuckle's case, those humble beginnings were underscored by profound mistreatment at the hands of his father. Because Arbuckle was large from birth, a trait that set him apart from the rest of his family who were all on the slim side. Arbuckle's singular size troubled his father, who was convinced that Arbuckle was not his legitimate son and made a point of not only treating him with disdain, but beating him at the slightest provocation. Despite this mistreatment, Arbuckle possessed enough confidence and self esteem to enter aan "audience-judged" talent contest, in which he sang and danced and did some clowning around. When he somersaulted into the orchestra pit to avoid a hook intended to drag him off the stage, the audience went wild and his fate was sealed. A few years later, he began his career as a professional comedian.
From 1913 until 1921, Arbuckle (his friends never called him "Fatty"; it was just a stage name) enjoyed a status and prestige reserved for the upper echelon of the new Hollywood royalty, at one point commanding an annual salary of one million bucks, making him one of the highest paid stars in the film industry. Essentially a physical comedian, Arbuckle was surprisingly graceful for a man of such considerable girtht, allowing him to transcend mere "slapstick" and create his own specialized niche within the genre. That niche included a close friendship and working relationship with fellow comedic genius,
Mabel Normand
, with whom he created the "Fatty and Mable" label, under which the duo made a series of shorts, the most well-known of which is probably "Fatty and Mable Adrift", released by Triangle-Keystone in 1916.
Mabel Normand, comedic siren of the silent screen
A couple of cut-ups: Mabel and Roscoe in character
Arbuckle was also one of the first of the silent comedians to direct his own films, starting with "Barnyard Flirtations" in 1914, eventually making a permanent shift from comedic shorts to feature films entirely. Rich, famous and popular with the ladies despite his substantial weight, Arbuckle seemed to have it made in the early Hollywood shade. So what was the scandal, you ask? Well, for those who don't know....
Silent starlet, Virginia Rappe

Her name was Virginia Rappe, and she was an early Hollywood prototype of the proverbial "model-slash-actress" that we've come to accept as indigenous to Tinsel Town. Rappe made several now forgotten films during her short career and would most likely have been forgotten by movie historians as well had she not attended a party thrown by Arbuckle on Sept. 7, 1921 in his hotel room in San Francisco. Exhausted after completing three films simultaneously, Arbuckle had driven to San Francisco with two friends for a three day respite which he hoped would rejuvenate before he began his next project. Unfortunately, it was not to be. Four days later, on Sept. 11, Arbuckle was arrested and charged with manslaughter in connection with Rappe's death from peritonitis, which prosecutors claimed was the result of Arbuckle having sexually abused her with a champagne, Coke or milk bottle (the type of bottle differs in various accounts).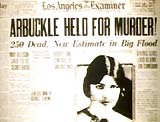 The Hollywood Scandal of 1921
Roscoe Arbuckle's mug shot

The evidence against Arbuckle was flimsy at best, not to mention that the prosecution's star witness happened to be a Hollywood hanger on known for setting up stars and blackmailing them. There was also the disturbing fact that Virginia had languished for four days before expiring, during which time no one seemed to feel the need to call a doctor or the police. Even so, the press had a field day with the formerly popular comedian, creating such a hostile environment that it seemed impossible that Arbuckle would ever receive a fair trial. However, after two trials which ended in hung juries, Arbuckle was finally acquitted by a third jury in a matter of minutes and exonerated of all blame in Virginia Rappe's unfortunate death. Sadly, the damage to the silent star's career was not so easily undone. For the next eleven years, Roscoe "Fatty" Arbuckle was persona non grata in Hollywood, working sporadically as a director and writer, but always under cover of a psuedenym. Despite efforts by good friends Mabel Normand and Buster Keaton to help him rebuild his shattered career, Arbuckle retreated into a morass of alcoholism and depression, during which period his second wife, Doris Deane filed for divorce, citing allegations of desertion and cruelty.
Blacklisted: Roscoe Arbuckle's film career hit the skids following
his acquittal in connection with Virginia Rappe's death.

It wasn't until late in 1932 that things began looking up for Arbuckle, when Warner Brothers offered him a contract for a two reel film to be made under his own name. Following the completion of the two reeler, Warner Brothers offered Arbuckle an additional contract for a feature length film. Arbuckle seemed poised to make a long awaited comeback and had no compulsions about expressing his joy. over the fact. On the day on which he signed the new contract with Warner Brothers, he reportedly exclaimed, "This is the best day of my life!"
That night, while sleeping, Roscoe "Fatty" Arbuckle died of a massive heart attack at the age of 46.
His body was cremated and his ashes scattered into the Pacific Ocean...far away from Kansas and the sad beginnings that had driven him to seek his fame, fortune and approval elsewhere.
Roscoe "Fatty" Arbuckle's star on the Hollywood Walk of Fame